Forward Momentum…Step by Step
Each time I fly away from Seattle,  I try and get a window seat so that I can gaze upon glorious Mt. Rainier. At over 14k feet tall, she is majestic.
Besides being the tallest volcano in Washington state, she represents my personal journey of tapping inner strength and intercepting limiting beliefs. She especially reminds me to get out of my comfort zones to expand my awareness of what I am capable of. 
In 2007, I got out of my comfort zone to summit Rainier with moderate training under my belt. I was in pretty good cardio shape but had not taken a mountaineering course. We did have an amazing guide who got us safely to her summit. It was a 3-day journey that tested my mental state several times. I remember thinking to myself at one o'clock in the morning as we trudged slowly up a crevasse-filled glacier, "childbirth was easier than this!"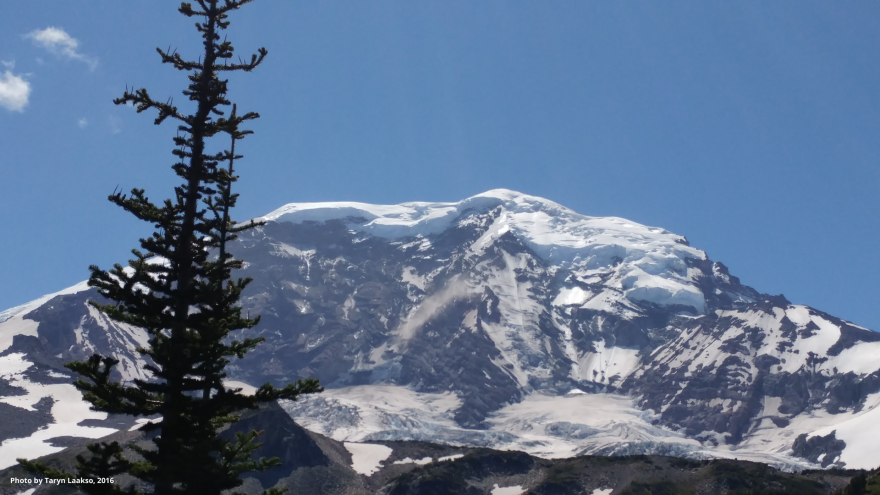 Nine years later, my friend, Elin and I hoisted 35 lb. backpacks and hiked the 93-mile long Wonderland trail around Mt. Rainier. The Wonderland trail was filled with ups and downs, similar to running a business. We trudged up a pass, enjoying the views, and slowly traversed down, only to climb another pass.  
All this to say, building a business has its ups and downs, similar to climbing a mountain. Getting out of comfort zones is a critical step of playing a bigger game in your business.  Oftentimes, you need a guide along the way to traverse the unknown parts that can feel scary or stuck. I am so grateful for the guides I have enlisted along the way to get where I am at today. And sometimes you just need a few tips from a fellow traveler. Here are 5 easy steps you can follow when you are feeling stuck:
1. Assess where you are at. Draw out a square with 9 sections. Kind of like a tic tac toe board.
2. Write in the center one thing in your business that feels stuck. It might be something you have had on your to-do list for ages and you're feeling frustrated that it's still there. 
3. Now ask yourself this "Self, what are 8 things I can do that would be uncomfortable and would help me take the next best step forward?"
4. Pick just one of these and carve time on your calendar to do it within the next 24 hrs! 
5. Send me a note that you did it! You get to celebrate that you moved forward from your stuck spot!
What usually holds you back is getting uncomfortable for a moment. Whether it's picking up the phone to call someone to ask for help, talking to someone you have a conflict with, or writing an email to clear up a situation. Somewhere in here, being vulnerable and getting out of a comfort zone is all that is needed to take that next best step forward… for YOU.  
By taking just one small step, it will help you get out of a stuck spot.
If you struggled to find a few options to fill in your squares or you find yourself hesitating to commit to an action, it's time to bring in a guide for another perspective. You don't have time to waste in the land of Stuck. You've got mountains to climb and a business to lead. 
Schedule a complimentary 30 min session with me and you'll gain clarity on what is your next best step to take.